Key events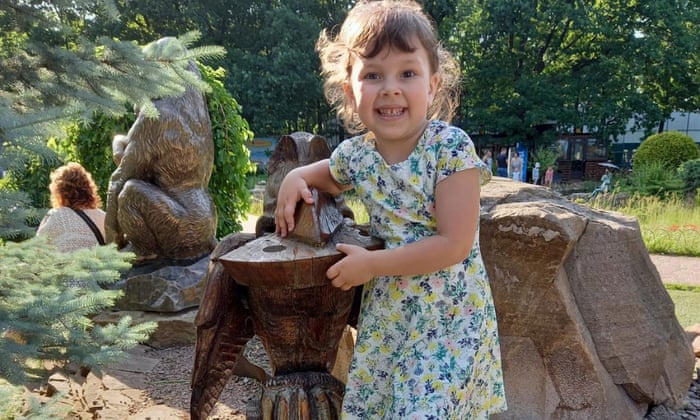 The Observer's Mark Townsend tells the story today of a four-year-old girl trapped in Kharkiv after UK government "blunders".
Efforts to rescue Alika Zubets from the city of Kharkiv began on 21 March when her UK sponsor applied for a visa under the Homes for Ukraine scheme and expected her to reach north Staffordshire by mid-April at the latest.
Instead, she remains one of the few children left in her Kharkiv neighbourhood, with no schools or nurseries open and the constant threat of shelling from Russian forces nearby.
Russia's foreign ministry spokeswoman, Maria Zakharova, said Russian forces hit a Ukrainian military boat in the port of Odesa with high-precision missiles, Reuters reports.
Ukraine had said Russian missiles hit the southern port on Saturday, threatening Friday's deal to unblock grain exports from Black Sea ports and ease global food shortages caused by the war.
Russian foreign minister to attend diplomatic talks with Egypt
Russian foreign minister Sergey Lavrov is in Cairo today for diplomatic talks with Egypt. It is the first stop on a charm offensive around Africa to try and turn around the country's global reputation and trade.
AP reports:
Russian Foreign Minister Sergey Lavrov is in Cairo for talks Sunday with Egyptian officials as his country seeks to break diplomatic isolation and sanctions by the west over its invasion of Ukraine.

Lavrov landed in Cairo late Saturday, the first leg of his Africa trip that will also include stops in Ethiopia, Uganda and the Democratic Republic of Congo, according to Russia's state-run RT.

The Egyptian Foreign Ministry said Foreign Minister Sameh Shukry was holding talks with Lavrov Sunday morning.

The Russian chief diplomat was scheduled to meet later Sunday with the Arab League Secretary General Ahmed Aboul Gheit. He will also address the permanent representatives of the pan-Arab organization, RT reported.

Egypt, the Arab World's most populous country, refused to take sides since the war in Ukraine began in February as it maintains close ties with both Moscow and the west. Egypt is among the world's largest importers of wheat, with much of that from Russia and Ukraine.

Egypt's President Abdel Fattah el-Sissi has cultivated a close personal rapport with Russia President Vladimir Putin. Both leaders have strengthened bilateral ties considerably in the past few years.

Lavrov's visit to Cairo came as Russia's state-owned atomic energy corporation, Rosatom, began last week the construction of a four-reactor power plant it is building in Egypt.
The governor of Donetsk, Pavlo Kyrylenko, is reporting that two civilians were killed and another two injured in the region on Saturday.
Kyrylenko also said that two schools have been destroyed by Russian forces in the region overnight. Posting on facebook, he said the schools were in Konstantinívcí and Bakhmutí. He also said a kindergarten and private homes were hit in Russian shelling.
We've had early reports of a Ukrainian counteroffensive in Kherson – a region that was taken by Russia early in the war under Russian occupation. For a glimpse of life there now, this report from The Observer on Saturday documents a secret artists' society of painters, playwrights and photographers who have defied the threat of arrest to share their experiences:
And little more on the Ukrainian counteroffensive in Kherson: Russia's TASS news agency quotes the Russian-installed military authority, Kirill Stremousov, saying that Ukraine had hit a bridge in the Kherson region with missiles. "The bridge is very badly damaged," he said.
The Guardian could not independently verify battlefield reports.
Ukraine presses ahead with efforts to restart grain exports from Odesa
Ukraine was pressing ahead on Sunday with efforts to restart grain exports from Odesa and other Black Sea ports after a missile attack.
Infrastructure Minister Oleksandr Kubrakov said on Facebook "we continue technical preparations for the launch of exports of agricultural products from our ports".
Public broadcaster Suspilne quoted the Ukrainian military as saying the missiles had not significantly damaged the port.
The State Emergency Service of Ukraine has published some images which they say show emergency services extinguishing the fire that followed the missile attack:
President Volodymyr Zelenskiy said Ukrainian forces were moving "step by step" into the occupied eastern Black Sea region of Kherson, in video posted late on Saturday. A counteroffensive in Kherson could mark a shift of the main theatre of combat, which has been the eastern region of Donbas.
The Institute for the Study of War (ISW) said in its Saturday evening assessment:
Ukrainian forces are likely preparing to launch or have launched a counteroffensive in Kherson Oblast as of July 23, but open-source visibility on the progress and tempo of the counteroffensive will likely be limited.
According to the ISW, Ukrainian adviser for Kherson Serhiy Khlan said on Saturday Ukrainian forces had seized unspecified settlements in Kherson Oblast. He called on Ukrainian civilians to remain silent on the progress of the counteroffensive until Ukrainian authorities released official statements.
Good morning and welcome back to our ongoing coverage of the Russian invasion of Ukraine. I'm Tess McClure, and is the summary of the latest developments from overnight:
President Volodymyr Zelenskiy said Ukrainian forces were moving "step by step" into the occupied eastern Black Sea region of Kherson, in video posted late on Saturday night. The Institute for the Study of War (ISW) said in its latest assessment that Ukraine appeared to be launching a Kherson counteroffensive, and quoted Ukrainian adviser for the Kherson region's administration, Serhiy Khlan saying on Saturday that Ukrainian forces had seized unspecified settlements in the region
Russia has targeted Ukraine's main port of Odesa – through which grain shipments would take place – with cruise missile strikes, barely 12 hours after Moscow signed a deal with Ukraine to allow monitored grain exports from Ukraine's southern ports. "The enemy attacked the Odesa sea trade port with Kalibr cruise missiles," Ukraine's operational command south wrote on Telegram, raising doubts about the viability of the deal that was intended to release 20m tonnes of grain to ward off famine in large parts of the developing world.
Ukraine has said it will push on with grain exports despite the attacks. Infrastructure Minister Oleksandr Kubrakov said they would "continue technical preparations for the launch of exports of agricultural products from our ports," and public broadcaster Suspilne quoted the Ukrainian military as saying the missiles had not significantly damaged the port.
Ukrainian president Volodymyr Zelenskiy called the strikes on Odesa "barbarism" and said they showed Moscow could not keep its promises. "This proves only one thing: no matter what Russia says and promises, it will find ways not to implement it," he said during a meeting with US lawmakers, according to a statement from the presidency.
The US secretary of state condemned the Russian attack against Odesa, accusing Russia of deepening the global food shortage. In a statement posted on Twitter, Antony Blinken said: "The United States strongly condemns Russia's attack on the port of Odesa today. It undermines the effort to bring food to the hungry and the credibility of Russia's commitments to the deal finalized yesterday to allow Ukrainian exports."
Ukraine's defence ministry has urged citizens in Enerhodar, a key area seized by Russia, to reveal where Russian troops are living and who among the local population was collaborating with the occupying authorities. "Please let us know as a matter of urgency the exact location of the occupying troops' bases and their residential addresses … and the places of residence of the commanding staff," it said on Saturday, adding that exact coordinates were desirable.
The governor of Zaporizhizhia has said that Russia is keeping 170 people captive in the Zaporizhizhia oblast, the Kyiv Independent reports. According to the governor, Oleksandr Starukh, Russian forces have abducted at least 415 people in the southern region since 24 February – the day Russian forces invaded Ukraine – and at least 170 individuals are still being kept captive.
The UNHCR says 3.7 million Ukrainian refugees have received temporary protection status in the European Union. In a new report released Friday, the UNHCR cited that 3.7 million Ukrainians have registered for Temporary Protection or similar national protection schemes in Europe.
Video footage has emerged of a powerful explosion that took place in the Russian-occupied territory of Horlivka on Saturday in the Donetsk oblast, Euromaidan reports. Reports from outlets have been claiming that Ukrainian armed forces have hit a Russian ammunition depot.
The former deputy secretary of Ukraine's Security Council has been suspected of high treason, the Kyiv Independent reports. According to a report released on Saturday by the Ukrainian State Bureau of Investigations, Volodymyr Sivkovych is suspected of collaborating with Russian intelligence services and managing a network of agents in Ukraine that spied on behalf of Russia.
Germany has delayed weapons delivery to Ukraine, the Kyiv Independent reports. The outlet, sourcing German media organisation German Welt, reported that anonymous Ukrainian officials had reported that Ukraine's application for eleven IRIS-T air missile defence systems is currently being held up by Germany's Federal Security Council.
Hungary's nationalist prime minister Viktor Orbán called for US-Russian peace talks to end the war in Ukraine, lashing out at the European Union's strategy on the conflict. In a speech in Romania on Saturday, the 59-year-old rightwing leader also defended his vision of an "unmixed Hungarian race" as he criticised mixing with "non-Europeans". Orban has condemned Russia's invasion of Ukraine in February, but maintains an ambiguous position on the conflict.
Two US citizens recently died in the Donbas region, CNN reported on Saturday, citing a US state department spokesperson. The spokesperson, not named in the report, did not provide any details about the individuals or the circumstances of their deaths but said the US administration was in touch with the families and providing "all possible consular assistance," according to CNN.