It's not looking good for crypto-fanatics with Bitcoin diving deeper into the red
Nothing to fear about key technical levels getting assaulted, its really about the lack of transparency and regulation than the epic volatiltiy that are the big risks. Ian Verrender had a smashing article on Bitcoin et al yesterday at the ABC:
For the second time in as many months, an Australian based crypto exchange, MyCryptoWallet, collapsed last week, leaving 20,000 investors stranded and most likely losing everything. BlockChainGlobal went under in October owing $23 million.

Almost totally unregulated, investors use these exchanges to trade cryptocurrencies and usually leave their investment with the exchange for safekeeping. The alternative is to keep it yourself on a hard drive or some other form of technology that either can fail, be lost or forgotten.

The overall value of cryptocurrencies now has surpassed $US3 trillion.

That doesn't include the nefarious world of NFTs, non-fungible tokens, on anything from art to imaginary real estate and livestock. You can even put your imaginary paddocks up to agist imaginary horses for decent returns!

If the whole thing unravels, the losses will be anything but imaginary.
Even the king of krypro Elon Musk is putting the inertial dampeners on, stating in an interview overnight that he "finds cryptocurrency interesting and can talk endlessly about the concept of money as "an information system for resource allocation." But he said he doubts that crypto will replace fiat currency."
Moving to the other casino of currencies out there, my contention that the Australian dollar was ready to breakout was completely wrong as the Pacific Peso rolled over last night in the wake of a much stronger USD: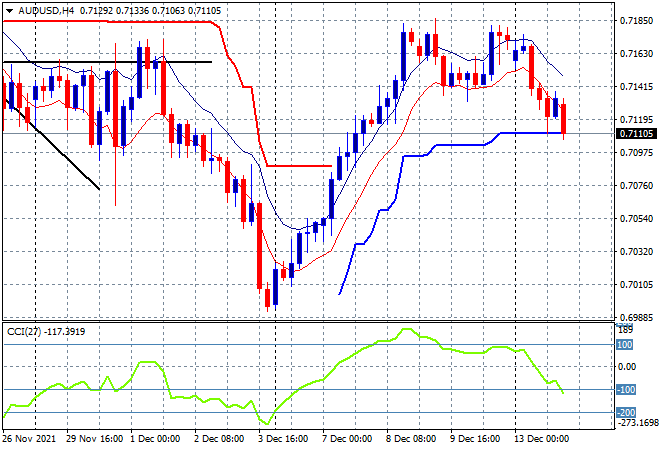 Price had been setting up to burst through the 72 handle, completely a lovely inverted head and shoulders pattern on the four hourly chart, but this was swatted down. Pays to show you shouldn't fall in love with your positions – know when to fold them, know when to hold them. In all aspects of investing, its not being wrong or right that counts – its always about how much you didn't lose when you were wrong!